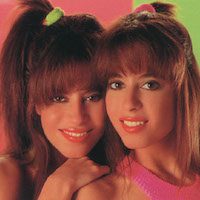 Tuesday, March 31st, 1998 - #653
Guest: Morrell Twins
Host: Adam, Dr. Drew
Listen to the

Show

Update Required

To play the media you will need to either update your browser to a recent version or update your

Flash plugin

.
Show Summary:
This is the episode where the infamous "a ha ha ha haaa" drop that is played after someone says how big their dork is came from. The two twin sisters bring various friends of theirs into the studio throughout the show and are incredibly annoying. Adam doesn't care too much as he keeps asking them to flash him.
Carmen attempts to do a psychic reading of Adam's wallet but Adam has engineer Mike shut her mic off. One of the twins announces she dated Gunner Nelson. Adam makes fun of Gunner. A clip of this is played back when the Gunners are guests on the show not too long after this one.
Adam plugs their latest movie and announces that he owns it. They try to take a call but the girls won't stop talking, even though their mics are off. The caller tells Drew he's getting wittier. They go to a break and Adam convinces one of the girls to flash him. Adam is insulted by being told he has pubic hair on his hear. One of the girls claims she was "young, dumb and full of cum," at age 19.
After some more Nelson bashing
Adam asks producer Ann if she can book them.
Drew gets fired up about narcissistic parents.
He also pretends not to look when Adam gets flashed again going into the next break. A guy calls in who was set up with a girl on
the February 14th show. Drew goes to say something and one of the girls ironically tells him to let the guy finish. Adam and Drew name a few famous people such as Buzz Aldrin, who one of the girls knew walked on the moon and Henry Kissinger who according to them was "like a president."
Apparently Weird Al wanted to be a virgin until he got married. While Carla and Donna are apparently getting it on in the bathroom, Lisa, producer Ann and the rest of the girls go to investigate with Drew's tape recorder.
Adam threatens to kick his dad in the nuts for not buying him a guitar when he was 5 and then goes on to attack Gunner Nelson again. It turns out he was given a Cartia watch and sold it for hair transplants.
Right at 52:37 is where you will hear the "a ha ha ha haaa," drop. A girl named Kerry was on hold for 125 minutes but never got through, perhaps Kerry O'ferris?? Hopefully, (she deserves it). Right at the end the word "cock" gets through.