The Story of

lovelinetapes.com

Loveline Tapes is a community dedicated to collecting, organizing, and sharing classic Loveline radio shows. The site archives them, makes them searchable, and features online forums where Loveline fans can interact with each other. lovelinetapes.com launched in October 2009.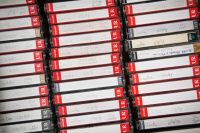 My name is Jeff (spinfly on lovelinetapes.com). I'm a web developer and photographer currently living in Alexandria, Virginia. I started listening to Loveline when I was at the University of Southern California in the late 1990's. I quickly became a huge fan and regular listener of the show. I loved it so much that I started recording the show on the mini-stereo deck I had in my college dorm. Like a lot of nerds out there doing the same thing, I quickly found that if I stopped the recording for each commercial break, an entire show would fit neatly onto a 90-minute tape.
In 2009, unclepenny stumbled onto my personal website here described how I was a Loveline fan. When he discovered I had a box full of old Loveline tapes, it was a goldmine. He excitedly asked me to share them and introduced me to Giovanni, a super fan who had become well-known in the Loveline community.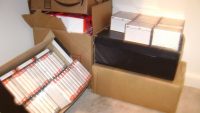 It seems that for most of Loveline's history, Westwood One (the studio that produced Loveline) did not make studio recordings of the show. Amateur recordings from fans around the country are the only known copies of the show. Over the years, an underground community of Loveline fanatics began collecting and trading shows with one another.
It was at this point that I became aware of the relative rarity and demand for tapes like mine. Then I had an idea. Rather than just adding my recordings to the mix, I thought that we had a good opportunity to make a website where we could collect and share all of these recordings in an organized way. So I told unclepenny and Giovanni that I would send them my box of tapes under three conditions:
they digitize all of my recordings and send them back to me,
they send me ALL OTHER digital recordings they had ever collected, and
they help me build a site to organize and share these recordings.
They agreed, and I got to work. It took a lot of time and money getting the site up and running, and even more time figuring out ways to ward off hackers and bandwidth hogs, but we did it! Special thanks to unclepenny and Giovanni for helping to collect the site's shows and initial content, and to all of our admins for their ongoing work to keep things up to date.
In June 2017, our hosting provider temporarily took down the site because it became too darn popular. I took it as an opportunity to rebuild the site from the ground up. In October 2017, the site relaunched with a brand new design and a bunch of new features. Thanks to davevsdave for his help with the snazzy new design.
The site gets about 13,000 unique visitors and 40,000 pageviews a month. Hosting costs have steadily increased over the years, but I'm doing my best to keep the site up as a public service. Enjoy!